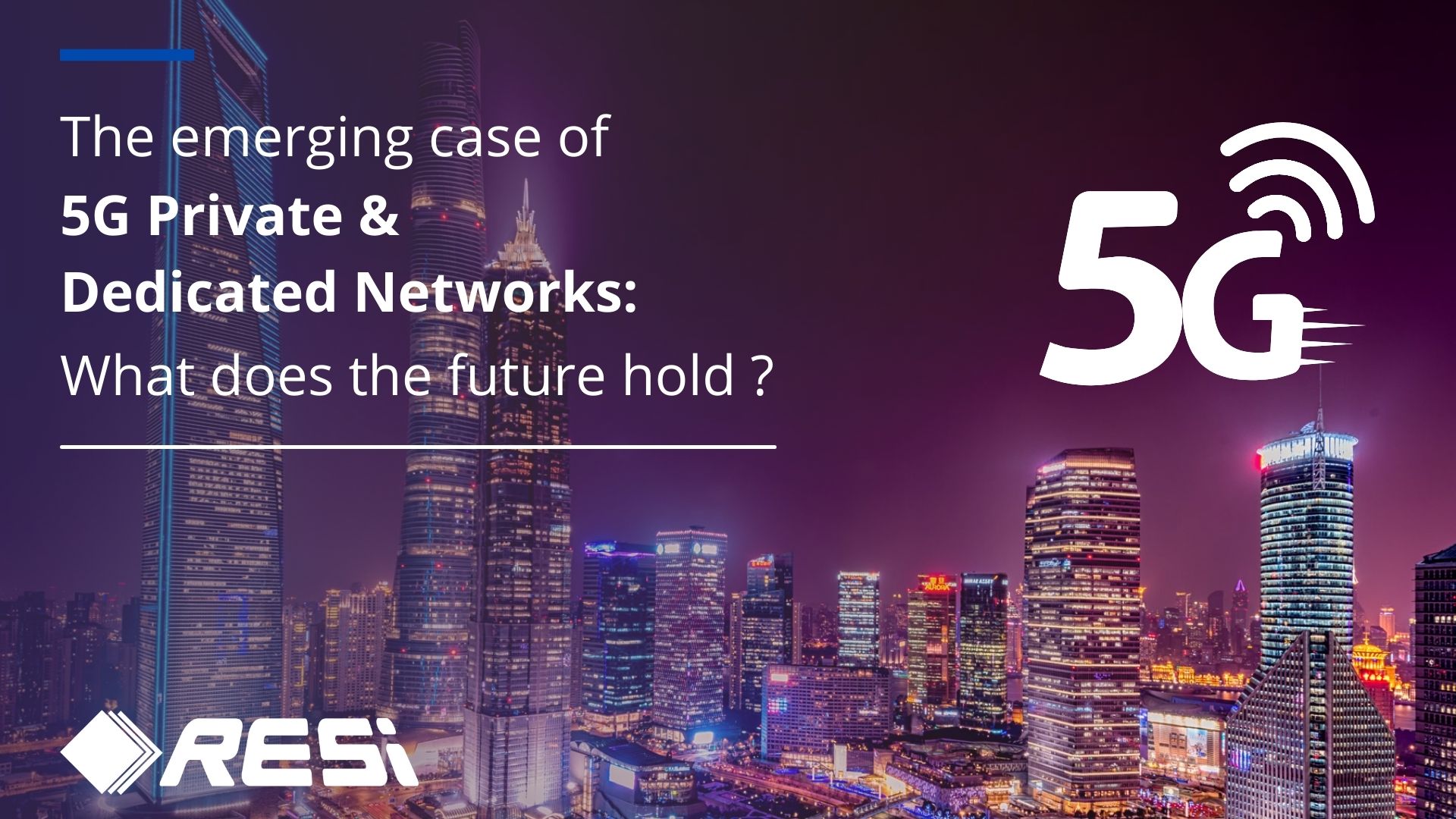 5G PRIVATE AND DEDICATED NETWORKS TO FASTER REALIZE INDUSTRY 4.0
The new generation of wireless connections has arrived: 5G has the power to simultaneously support an incredible number of connections by improving speed, latency, reliability, and power consumption of IoT devices.
There has been a growing expansion of Internet of Things in ever more area of business, and although until recently the key focus of mobile networks was on consumer-oriented services, there has been a growing recognition that mobile networks can now be used more broadly for dedicated business services, particularly when they are delivered alongside capabilities such as IoT monitoring, big data, artificial intelligence, and edge computing. In fact, it is estimated that enterprise applications will use 54% of cellular IoT connections by 2025. (GSMA Intelligence)
The 5G network roll out and its capabilities support the provision of private and dedicated networks - which provide specific resources from the public mobile network for the enterprise through features like 5g network slicing – in an ever more effective way, building on the successes of companies that have deployed such networks.
5G Private and dedicated networks benefits
5G private and dedicated networks provided through mobile technologies have a wide variety of advantages compared to other options such as wired Ethernet or Wi-Fi or unlicensed wireless networks. Private and dedicated 5G Networks offer:
Security: the private 5G network deployment is expected to be embraced by a great number of industries because it provides a much more secure connection. This represents a huge advantage for companies that handle sensitive data and information.
Wireless: with the introduction of 5G private network, infrastructural expenses associated with wired technology will be cut. The wireless aspect is also hugely beneficial in an increasingly mobile age where business is no longer confined to one location.
Oversight: In conjunction with the strengthened security features that can be carried out at home with the private 5G network, companies are able to control different aspects such as resources and the prioritization of critical devices.
Network Slicing: 5G creates multiple virtual networks (network slicing) that can be adapted for each specific purpose. Network slicing in 5g private networks allow the optimization for the user specific needs within that network.
Reduced latency: one of the key benefits of private 5G networks is lower latency for better communication between devices. As Internet of Things becomes more of a reality, and we see the increased use of robotics, lower latency will be a crucial need across all sectors (URLLC – Ultra-reliable and Low Latency Communications).
Improved bandwidth: In addition to the decreased latency there is the enhanced bandwidth of the 5G private network that enables larger data to be transmitted significantly faster. It also means simultaneous upload and download speeds needed for Video Conferencing and IoT (mMTC – massive Machine Type Communication).
Seamless connectivity: 5G private network is well suited to industrial applications for an uninterrupted workflow.
Areas of application and Industry 4.0 use cases
5G has a wide range of verticals (healthcare, manufacturing, logistics, smart cities, agriculture, and tourism), but the common denominator is that it will allow huge amounts of information in digital format (audio, video, images, etc.) to travel and to be exchanged very quickly over long distances, enabling activities that would otherwise require large amounts of physical resources.
For example, in the field of healthcare ultra-fast connections will support the activities of robot surgeons and doctors called upon to diagnose or operate on a patient remotely. And the maintenance of industrial plants or oil rigs will also follow in this vein. Automated driving vehicles are another expression of what fifth-generation mobile technology will bring: machine-to-machine communication and communication between cars and sensors on the road will take place in real time, making it easier for the systems that drive the driverless four-wheelers to do their job. Finally, sensors, cameras and IoT devices will change the face of production plants, ports, and warehouses by communicating in an integrated way over a single intelligent network infrastructure, which will exploit the performance of 5G.
Let us see where 5G private networks come into play by exploring some use cases that are typically discussed:
Automation and flexibility of factory-floor
Workforce management
Risk management (safety area management)
Real-time situation awareness solutions (including sensors, HD video surveillance and massive diagnosis data upload)
Preventive maintenance
Machine utilization optimization
Remote asset control (sensor monitoring)
Worker health and safety (with AR/VR or push-to-talk voice)
The above-mentioned use cases need high levels of network performance, combined with data management capabilities, reliability, quality of service (QoS), latency, security, and flexible coverage.