We help you invest in your business to create a better future.
RESI S.p.A. has been a technology partner of leading Service Providers for over thirty years, preserving and enhancing their most important asset, the network.
The experience and skills consolidated over the years, combined with constant investments in R&D, allow to turn the customer's actual needs into practice, by developing sophisticated ICT solutions for the management of 5G and 4G networks, and assuring a superior level of end-user quality of experience in a national and international context.
The company and its people stand out for their strong engineering know-how in the design, development and management of Service Assurance solutions based on proprietary Deep Packet Inspection technology, Quality Assurance in contact centres and Digital Tansformation for both private and public companies.
Mission
RESI Informatica S.p.A. promotes the democratization of technology rising to the challenge of accelerating the digital transformation of private and pubic organisations. Large enterprises rely on RESI because of their complex needs due to rapid shifts in consumer behaviours, regulatory and competitive landscape.
Managing big data platforms to get real time insights about the quality of service and network can put a lot of pressure on entire company divisions impacting processes and business models. More often than not such complex challenges cannot be handled by standard products, therefore a long term strategy of adopting advanced ICT solutions can make the life of network managers much easier.
Partnering with RESI means having the opportunity to automise repetitive activities, supervise what is happening on your network and improve your customer experience in the face of continuous technological evolutions such as IoT, 5G, Cloud and Big Data.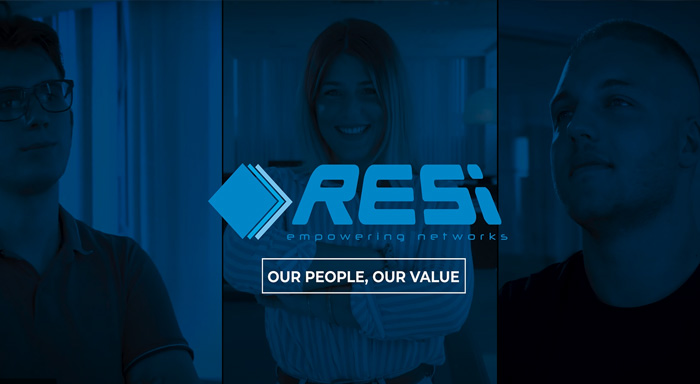 Work with us
Change your perspective.
Problems cannot be solved with the same level of knowledge we were at when we created them.
We want to be sure that talented people can deal with our exciting and exciting opportunities.
People are our main asset!
Help us design new solutions to solve real problems and direct innovation in the right direction.
References
RESI collaborates as a provider of ICT services and solutions with primary national and international companies and public governments.